On Saturday, June 8th, anti-fascists exposed a realtor named Paul Preston as being the leader of a local Neo-Nazi Group called the Houston Goylers. On the same day they confronted him outside his home in Houston's Near Northside neighborhood where he lives with his Neo-Nazi girlfriend, Ariel Gherman. Before news even had a chance to spread about the confrontation, active members of Houston's Alt-Right were already well into an uproar of infighting and blame on Facebook. Weeks prior to the event, tensions were already running high between "AK Lane", an Alt-Right woman who was dating a Patriot Front member, and Paul Preston. AK Lane had vaguely accused Paul of being a "Nazi LARPer with a Jewish girlfriend" (Ariel bears a commonly Jewish surname), and Paul had in turn been making jokes about AK Lane's body and appearance for some time. Preston further inflamed tensions by implying it was preferable to date an attractive non-white woman over an opinionated fascist white woman, angering the more "principled" Nazis. This infighting, driven largely by the hopelessly dramatic Paul Preston, ironically rendered him helpless and friendless just a few days later when a large bloc of anti-fascists arrived at their doorstep. Demonstrations continued for well over an hour, with Ariel hiding inside with no one to call upon for aid.
After finding out the hard way that being a Nazi in the real world won't be tolerated, Paul and Ariel took their anger back to the internet looking for someone to blame for this series of humiliating defeats – while others made laughable claims they could have done something differently to stop us. Over the next few days arguments among fascists flared and it was revealed by AK Lane's boyfriend that she had previously threatened to doxx Paul Preston.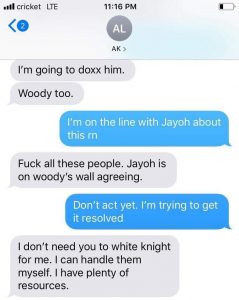 Upon seeing this, Paul and Ariel became convinced that AK Lane had been solely responsible for doxxing them. Incapable of believing that anti-fascists could collect such extensive information on their own, a number of stories began circulating online about AK Lane working with anti–fascists and doxxing her former friends.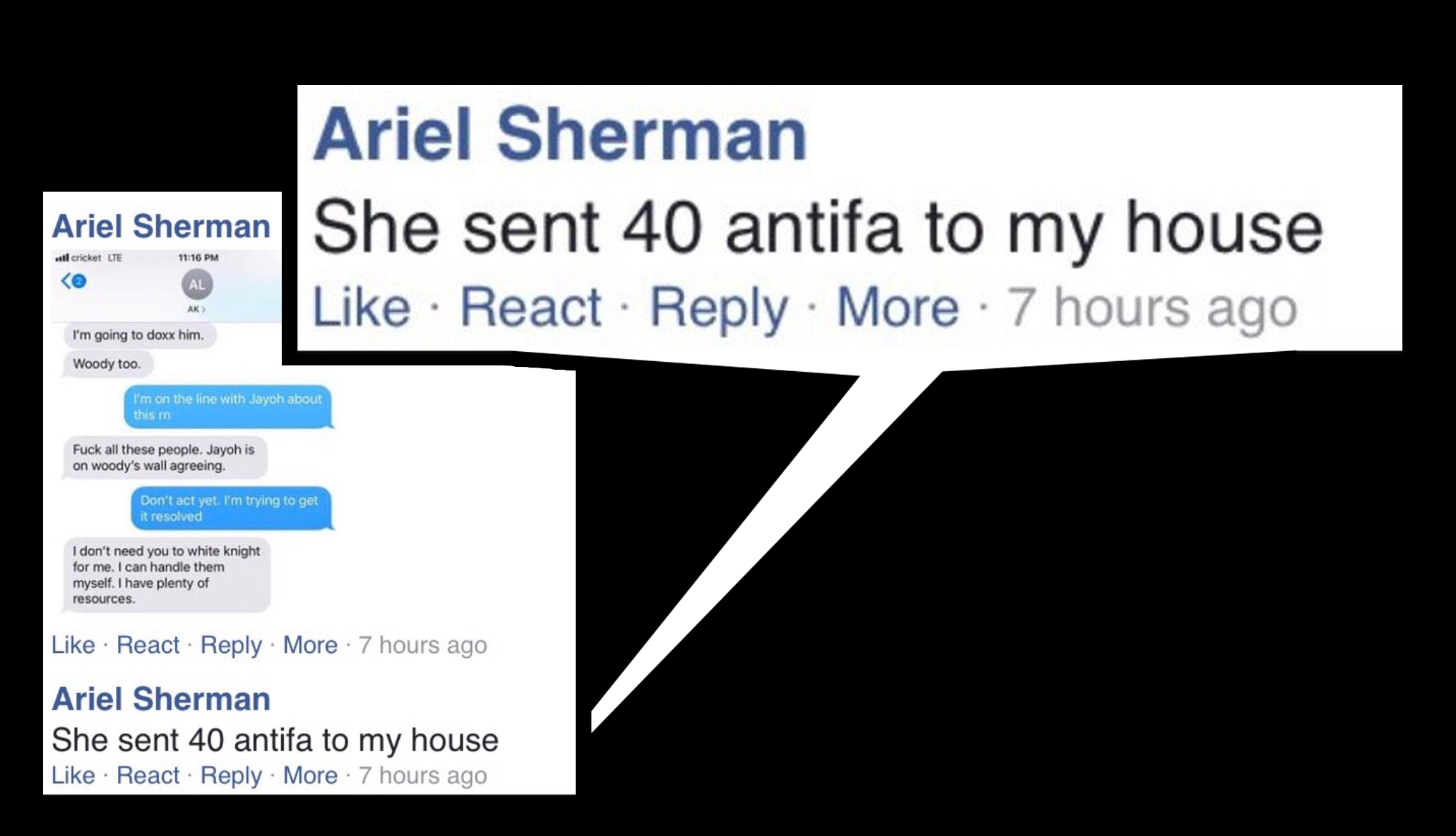 In actuality, Paul had doxxed himself by posting pictures from his home office, and by identifying himself as Wooderson on film during a fascist "Texas Is Ours" rally in Austin the year prior. AK Lane had not, despite her threats, communicated any information about Preston but it ultimately didn't matter. His unprincipled, panicked, childishly dramatic demeanor lead him to doxx AK Lane as Kathryn Powell, a name not previously known to us. Both Paul and Ariel made a concerted effort to distribute this information widely online, including photos of Kathryn's work badge as a TMS Transit Specialist for TAPS Public Transit in North Texas. It's unclear if that is her current or former employer.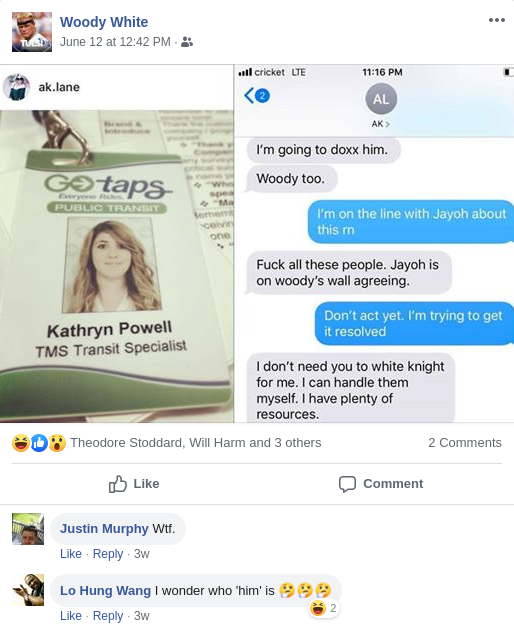 Throughout the weeks following, Kathryn Powell has been the target of continued harassment from her former Nazi associates. Memes, jokes, and threats about her have been circulating across fascist social media circles and are being shared by fascists not even originally involved in these disputes. She is no longer dating her boyfriend from Patriot Front, who appears to have betrayed her by releasing her threats to doxx Paul Preston. It's no surprise that the first people they are ready to betray are women. The Alt-Right is deeply rooted in misogyny, and they will always seek to blame their own failures and weaknesses on women first. 
Kathryn is still active in some fascist circles such as the "Othinn Folk" Nazi Pagan group which she administers on social media along with other Neo-Nazis. Paul Preston and his friends have gone out of their way to make a fake Facebook group where they make fun of Othinn Folk and Kathryn Powell herself. These events seem to have pitted Paul Preston and his friends in the Houston Goylers and Patriot Front against anyone who supports or tolerates Kathryn in other groups.
White supremacists, and in this case "Chad Nationalists" in particular, build themselves up as strong, disciplined fighters who put their "movement" above all else. In reality, these are fragile, childish white men terrified of being exposed and ready to throw each other under the bus at the first sign of trouble.